How to Set Up a Language Learning Notebook
Please keep in mind that some of the links in this post are affiliate links. In the event of a sale, I will be awarded a small commission (at no extra cost for you). Thank you for supporting my blog!
One of the few things I dislike about language learning is all the paper clutter. Organising my many years' worth of Mandarin study material, I've found:
Various notebooks half-filled with illegible characters.
Sheets of character grids, printed out and long forgotten.
Random notes scribbled on the back of receipts.
No longer-sticky notes tucked between pages.
Notes scrawled in the margins of textbooks and novels.
Sound familiar? All that paper can get messy and overwhelming. One of the best ways to tame the chaos is to corral all your language learning notes into a single source of truth – the one notebook to rule them all.
Not sure where to start?
Read on for some useful tips on setting up your own language learning notebook.
Why keep a language notebook?
Keep organised: Cull the clutter by keeping all your language learning notes in one place.
Create a custom dictionary: Improve your vocabulary by keeping track of new words related to your interests.
Stay motivated: Filling a notebook is a great way of keeping track of your progress. Being able to see exactly how much work you've put in can be a great confidence booster.
Handwriting promotes retention: Taking notes by hand has been shown to promote understanding and improve your memory. 
Keep it personal:  Use your notebook to create your own language learning curriculum tailored to your specific needs.
Get creative: A language notebook is a great creative outlet. This is your own personal space to use however you wish. Fill it with doodles, mind-maps, sketches, photos… the possibilities are endless.
What you'll need
There are two options for setting up a language learning notebook. You can either choose a traditional paper journal or go digital.
If you decide to stick with good old pen and paper, you'll need:
A notebook – lined, dotted, big, small, whatever works for you

Pens and markers – keep it interesting with an assortment of colours 

Highlighters

Stickers or washi tape

Scissors

Gluestick

Interesting clippings (pictures from magazines, photos or souvenirs from your travels)

You can find plenty of inspiration for your notebook pages on Instagram and Pinterest. I like to follow hashtags like #languagebujo #bujoinspiration #bujoaddicts on Instagram to fill my feed with gorgeous spreads by people who are way, way more creative than me.
If you prefer technology over paper, you can create your own digital journal. 
You'll need:
A presentation app like Keynote, Google Slides or Powerpoint

A tablet computer and a stylus 

A note-taking app like Goodnotes or Notability 

I like using a presentation app like Keynote to create my digital journal pages because it allows you to add linked tabs so you can quickly navigate between pages. Once you've created your journal pages, you can convert it to PDF and import it to your note-taking app. You'll now be able to copy pages as needed and add notes using your stylus. 
The great thing about using a tablet and stylus is that you can still get the benefit of handwriting your notes while being able to store everything digitally. 
If you are interested in learning how to make your own digital journal, you can find a step-by-step tutorial here.
My digital language notebook (created in the Keynote app)
Ideas for your language notebook pages
The beauty of keeping a language notebook is that it's your own personal space. There are no rules. You can be as creative as you want!
It's entirely up to you what you want to include in your notebook, but here are a few ideas to get you started.
An index
Add a contents page to make it easier to navigate your notebook. If you are creating a digital journal, you can use linked tabs to skip to pages quickly.
A schedule
Create a daily, weekly or monthly schedule to organise your tasks. 
A habit tracker
This is a great way of keeping track of your daily language learning habits and there are lots of fun examples and templates available on Pinterest. You can also use a tracker to measure your Duolingo or Memrise progress.
Follow my Pinterest Language BuJo board here.
Goals page
Stay motivated by creating pages to track your S.M.A.R.T goals.
New vocabulary
There are lots of different ways you can keep track of new words in your journal, like:
A vocabulary log with a review counter

Pages for antonyms and synonyms

Word clusters or mind maps

Character review sheets if you are learning Hanzi or Kanji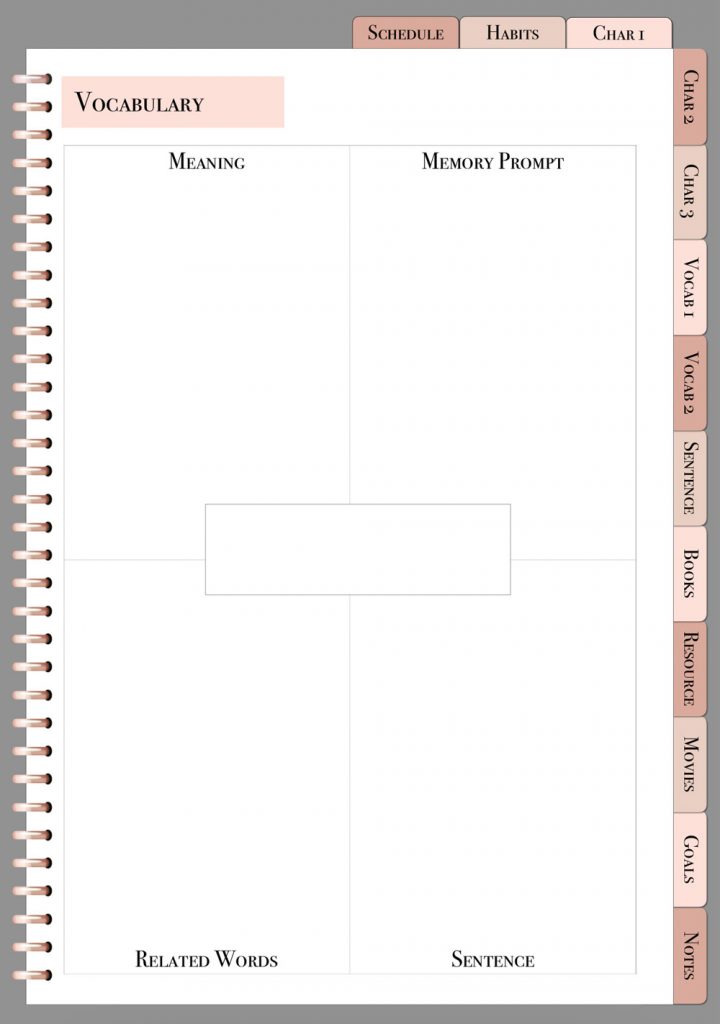 Resources
Keep a log of your language learning resources such as courses, textbooks and favourite YouTube channels. You can rate them to decide which ones are the most useful.
Grammar
Use your notebook to work through tricky grammar concepts. 
Diary entry/journal
Journaling in your target language is one of the best ways to learn new vocabulary and start producing your own sentences.
Find some writing prompts for your language journal here.
Themed pages
Create themed pages for useful topics, such as:
Days of the week

Fruits

Animals

Shapes

Colours

At the restaurant

Your favourite books or films

Greetings and salutations
Notes

Add a section for jotting down quick notes to organise later.
Do you keep a language learning notebook? I'd love to see some of your spreads!