Review: Learning Vocabulary With VocApp
Disclaimer: VocApp contacted me for my honest review and provided me with a free trial of their premium features so I can review it. I also received 10 premium accounts to offer readers as a giveaway (competition now closed). I am not affiliated with VocApp and receive no monetary compensation from any subscriptions or purchases. Opinions are entirely my own.
When used correctly, flashcards are an extremely effective way to learn vocabulary in a foreign language. Spaced repetition flashcards apps like Anki have long been firm favourites in the language learning community. Now there is a new contender on the block – a Polish outfit called VocApp that promises to help you learn vocabulary through spaced repetition and multisensory input.
When VocApp reached out to me for a review, I had no idea what it was all about. They kindly provided me with a free trial of their premium features so I could test it out for a few weeks.
How did VocApp stack up? Let's find out.
What is VocApp?
VocApp is a spaced repetition-based flashcard application that started as a Polish platform called Fiszkoteka. Fiszkoteka was a massive success in Poland, racking up over 1 000 000 users. The company decided to go global and created the VocApp site and applications, which now have over 125 000 active users and 49 000 000 flashcards created.
VocApp uses spaced repetition and multi-sensory learning to help users learn vocabulary in a fun way. According to the good people at VocApp, they've found that most people give up on learning a foreign language due to a lack of time and good resources. The app aims to solve both these problems by offering good quality language courses in an easy to use application that can be accessed on the go.
What makes VocApp different from other spaced repetition flashcards applications on the market? Here are some of the key features.
VocApp key features
A solid library of premium language courses
Based on their website, VocApp offers premium courses in 36 languages. This includes the usual suspects such as English, German, Spanish, French and Russian, as well as a few introductory courses on some lesser studied languages like Galician, Latvian and Catalan.
You'll find a range of pre-built flashcard sets to suit your level and language learning goals. For example, I had a look at courses on Business Chinese, HSK 5 exam vocabulary and the 1000 most important Chinese words while trialing the app.
Various learning modes
VocApp allows you to choose from a few learning modes: 
Flashcard mode – traditional Q-A/A-Q flashcard view

Multiple choice – choose the correct answer

Writing  – type your answer

Browsing – see flashcards one by one
You can also choose audio only lessons, which is a useful hands-free option during activities such as driving and exercising.
Multisensory flashcards
VocApp draws on a multisensory approach to vocabulary building, which means that the flashcard courses include text, audio recordings for correct pronunciation, grammatical explanations and images.
Habit building features
VocApp encourages good habit building by allowing users to set reminders to study, specify goals for each course and keep track of their study streaks. You can also choose how many flashcards to review per day to avoid overwhelm and stay productive.
Easy to use interface
With a bit of tinkering to get to grips with all the various settings, VocApp offers an easy to use interface that gets the job done without too many frills.
Sophisticated course creation options
As a flashcard app that offers access to premium curated and community created flashcard decks, VocApp is already pretty good. But what got me really excited was the ability to create my own flashcards and courses.
I am at a stage in my Mandarin studies where I am drawing a lot of my new vocabulary from reading. So having an easy way to import and review new vocabulary is really important to me.
For individual flashcard creation, VocApp works a treat. When creating a flashcard, I simply type in the English word and the app automatically translates it into Mandarin and even pulls in an accompanying image.
Here's an example of a new flashcard to remember the Chinese word for 'elephant'. The app automatically translated it as 大象 and I could have added the pinyin and tones to the answer section manually if I needed to. You can also add hints or examples to your new flashcard.
The app will now offer new flashcard suggestions based on your custom card. For example, other animals such as 'pig' or 'parrot' to match your 'elephant' entry.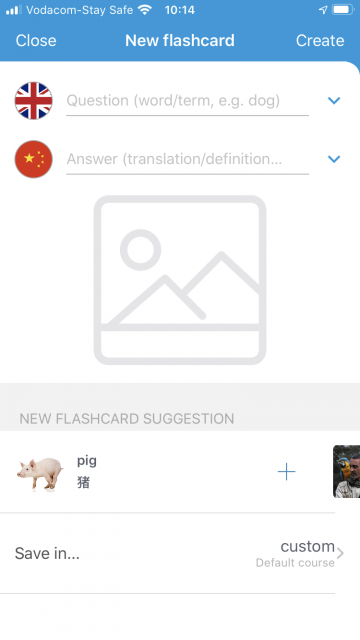 That's all pretty cool, but the potentially game changing feature is the smart creator, which allows you to:
Take a photo of a text (or import it from your photo gallery) and the app will take the most important words from the text and turn them into flashcards

Import from a text to make flashcards

I really liked the idea of being able to take a photo of a text and then importing it into the app to automatically create flashcards. 
This method worked perfectly when I took a photo of a page of an English novel and imported it to VocApp. The app searched the photo for keywords and automatically created flashcards with Chinese translations (you can set the target language). It even pulled in images for some of the flashcards.
However, when I tried this with Dutch and Chinese texts, it returned an error. It seems this function is only available when translating from English, which is a real pity. It would have been great to be able to import a snapshot of a Chinese novel and automatically create flashcards this way. This may just be a setting I am missing, so let me know if you have a solution.
Next I tested the 'import from a text' function by copying a section from a Mandarin version of a New York Times article into the smart creator and selecting the 'all words' option. This worked, but the app created flashcards from full sentences rather than individual words. I can live with this as I very rarely learn single words out of context anyway.
I also tried pasting a paragraph from the Dutch website Voertaal into the app. This immediately created a set of flashcards of individual words. Success!
Overall, it seems that the smart creator works well enough if you want to create flashcards by pasting text into the 'import from text' window or from a photo of an English text. It's not 100% foolproof, but it's a nifty little feature that can help you mine vocabulary from your reading material.
VocApp pricing
VocApp has a slightly confusing pricing system, which I have hopefully understood and explained correctly below.
VocApp offers 3 paid options:
A Premium Account: This allows you access to all the VocApp functions, such as being able to create as many flashcards as you want. If you purchase an annual Premium subscription, you get 3 courses for free. 
Single Course (€19 p/a): You can choose to buy a single course available in a language. This limits you to 300 custom flashcards and does not allow you to use the private mode.
Megapacks (€49 p/a): This is the option to buy all the courses available in a given language. If you buy a Megapack, you receive a Premium account for free. A megapack that includes access to all courses will set you back €99 p/a.
What can I get for free?
VocApp offers free beginner language courses as well as a free trial version of the paid courses. You can test out a course to decide if you want to buy the full version. I believe you can also create a limited number of your own flashcards using the free version.
I suggest you try it out before you spend any of your hard-earned cash.
The verdict
VocApp is a decent flashcard app that has some really useful features such as pre-built language courses, the ability to learn through multisensory input, and the option to create your own flashcard decks and courses.  I will extend my trial version and continue to work through some of the advanced Chinese courses.
Do you use VocApp to learn vocabulary? Let us know what you think in the comments below!