10 Free Ways to Learn Spanish
This is a guest post by Jamie from Crashed Culture. Go check out her blog for some great language learning tips and app reviews.
If you've ever looked up how to learn Spanish, you've probably run into all sorts of businesses advertising their paid products to you. That can get really overwhelming and make anyone feel like learning a language for free is impossible. (Spoiler alert: it's very possible!)
While paid language learning products can be really helpful for different kinds of language learners, there's no reason why anybody has to spend their life savings to learn Spanish. In fact, if you're just starting out, I would recommend NOT spending money until you have an idea of what you're looking for.
To help with that, here are 10 free ways to learn Spanish in a variety of different ways to practice any kind of language skill in any kind of way. The sky's the limit here, folks!
Duolingo
Duolingo is the crowd favorite, and there's no way I could talk about free ways to learn Spanish without mentioning it. If you haven't heard of Duolingo before, it's the most commonly-used way to learn most any foreign language. Fortunately for us, Spanish is also one of the most extensive courses on Duolingo. Plus, with Duolingo Stories AND the podcast…Duolingo's a great free way to get your Spanish started on the right foot.
Duolingo is great for Spanish language learners who have little to no experience in the language and are looking for the most common words and phrases to really get a good, solid base in Spanish. Duolingo is probably the most fun and motivating language learning resource out there, so I really don't think you can go wrong with Duolingo's Spanish lessons. Duolingo's a great way to get your building blocks of the Spanish language.
On the flip side, if you look at Duolingo's lessons and it's too easy for you, no hay problema! Even though Duolingo is best suited for new learners, there are plenty of free Spanish resources available that are more on your level.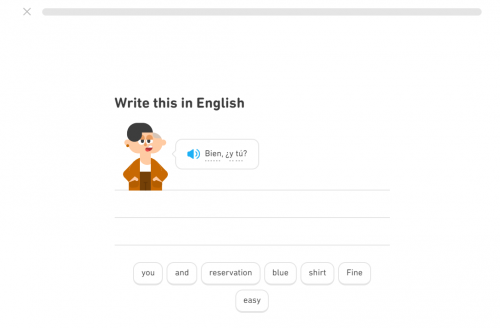 LingQ
LingQ is another free resource for learning Spanish that I would consider to be a step above Duolingo. You can find tons of beginner content on LingQ, but it'll also take you from beginner all the way to advanced, with plenty of room to grow.
LingQ is basically a platform to find books in other languages. While there are paid options, all of the books themselves are totally free. LingQ is really helpful not only for working on reading comprehension, but also for finding and learning new vocab (which is what a 'lingq' actually is).
With a few bucks a month, you can save a certain number of new words into your LingQ account, or you can just as easily file this new vocab away into another, free method. Regardless if you pay or not, LingQ gives you access to what seems like unlimited content for you to practice your reading comprehension (and even listening, if you choose podcasts or audio books) for totally free!
Clozemaster
If Duolingo is for beginners and LingQ is for intermediate/advanced, Clozemaster is great for advanced-advanced (is that a thing?). If you don't know what a cloze is, it's a phrase or a sentence with a fill-in-the-blank; you have to choose to correct word to fill in the blank and make the phrase or sentence correct!
Even as an advanced Spanish language learner who has lived in a Spanish speaking country, Clozemaster gives me tons of phrases that I've never seen before! Plus, I personally believe this is the best way to practice your verb conjugations, especially the past tenses (yeah, I still struggle with them, I won't lie!).
Like LingQ, Clozemaster is free with its own paid membership for just a few bucks a month, but there's also so much free content that there's no reason why anybody would need to spend the money.
Beelinguapp
I've got one more free resource to practice your reading in Spanish, and then we'll move on. Beelinguapp! Beelinguapp is a mobile app for audiobooks in a variety of different languages, with content from beginner to advanced. Again, while you can pay for Beelinguapp, there's also a ton of audiobooks that you can access for free.
With Beelinguapp, you can read (and listen to) audiobooks either just in Spanish, or opt to have the English translation at the same time, which can be really helpful for understanding how the sentence structure changes between English and Spanish.
LangCorrect
If you're looking for a good community of language learners practicing their writing skills, check out LangCorrect. LangCorrect is completely free and is much like Lang-8 (which hasn't been open to new accounts for years, but is still an active community) in that you write whatever floats your boat in Spanish in return for native Spanish speakers to correct your writing.
To keep everything free and fair, you can also seek out English writings (or any other languages you can correct) to correct and support.
Write about whatever you like, as often as you like, for absolutely free! If you're the kind of person who likes to just WRITE (short stories, journals, musings, what have you), LangCorrect is a great outlet for you to practice your written Spanish.
Slowly
What if you want to get in free writing practice in Spanish, but you need a little bit of inspiration for your musings? While Slowly isn't specifically meant for language learners, I find it to be a really helpful way to get motivation to practice writing Spanish. And, again, it's totally free!
Think snail mail in the digital age. With Slowly, you can send letters to people all over the world in any number of languages. Like snail mail, it'll take some time for your messages to get to your pen friend, so make your messages count!
Besides helping you work on your written Spanish, Slowly is also an awesome way to develop friendships with native Spanish speakers. Everything's pretty anonymous (no real pictures, names, or specific locations besides country), so it's a safe way to authentically create relationships!
r/WriteStreakES
One last free way to practice writing in Spanish: r/WriteStreakES! This subreddit is awesome for Spanish language learners who are motivated by keeping up daily streaks. With r/WriteStreakES, it's not so important that your writing is correct (there's a chance your writing could be corrected by a native, but also maybe not), but that you're WRITING.
When you reach certain streaks of writing in Spanish every day, you'll be granted awards! The longer you go the better, and even if you lose your streak (life happens, man), you'll always keep a history of your longest ever writing streak.
LyricsTraining
Listening is probably one of the easiest Spanish language skills to practice, but LyricsTraining is a free app that not many Spanish language learners know about. I mean who doesn't love listening to music and karaoke?
LyricsTraining has tons of Spanish language music videos from tons of different countries. It pairs the music up with the lyrics, so you can have fun doing fill-in-the-blanks and karaoke! It's an easy, breezy, fun way to work on your Spanish.
Though LyricsTraining is a paid app, you get 3 songs every 30 minutes for free which, if you really take advantage of it, is a ton of free practice!
Language Learning with Netflix & YouTube
Google Chrome users can add these free extensions to their browser to help out when browsing either Netflix or YouTube. With both (and totally for free), you can see the Spanish transcripts and have them automatically translated to make it that much easier to not only watch Spanish language content, but also pick up new words and phrases.
LLN and LLY both come with a ton of features that make it really easy and fun to use websites that you're already using anyways, but also apply them to your Spanish language learning strategy.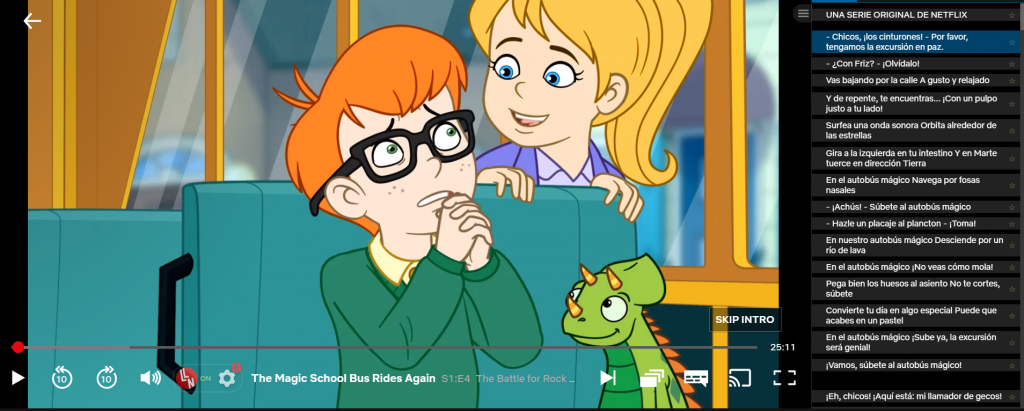 HelloTalk
Last but not least we have HelloTalk. HelloTalk is the only Spanish language learning resource on this list with the potential to facilitate actual conversations with native Spanish speakers for absolutely free.
HelloTalk is primarily a texting app (with features to help your conversation partner easily correct your mistakes in real-time), but also supports pictures, audio recordings, and video chats. So, basically, it's all your Spanish language skills in one easy, free mobile app.
How to use these free ways to learn Spanish
If you take anything away from this list of free ways to learn Spanish, I hope it's that you don't need money to learn Spanish, or any language! While paid products aren't wrong or a waste of money, they're also not totally necessary if you don't have the space in your wallet.
In these 10 free Spanish resources, you can learn Spanish from scratch and practice every one of the language skills you need to accomplish any Spanish language learning goal you may have. And remember: there is no "best" way to learn Spanish, just the best way to learn Spanish for you!