3 Addictive Romantic Dramas That Will Help You Level Up Your Mandarin
Please keep in mind that some of the links in this post are affiliate links. In the event of a sale, I will be awarded a small commission (at no extra cost for you). Thank you for supporting my blog!
Korean dramas hog a lot of the limelight these days, but Chinese and Taiwanese dramas offer a few gems that are packed with all the cheesy tropes you love to hate. We're talking piggy-back rides, girls disguised as boys and amnesia – all with the added bonus of exposing you to naturally-spoken Mandarin.
Be warned, the romantic dramas in this list require a fair amount of suspension of disbelief. So try to contain the eye-rolling and just go with it.
For gender-bending high jinx: Bromance (
爱上哥们

)
The plot
According to a fortuneteller's prophecy, Pi Ya Nuo (Megan Lai) must live as a boy until her 26th birthday to avoid an unlucky fate. With only 100 days to go until she can reveal her true identity, things get a bit complicated when she helps out triad leader Du Zi Feng (Baron Chen) in a fight and becomes his sworn 'brother'.
If this plot sounds ridiculous, it's because it is. But ridiculous in the binge-watch-until-Netflix-asks-if you're-still-alive kind of way.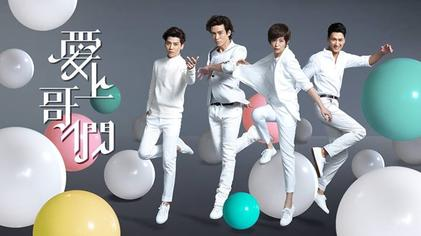 What's to love?
A lot. Megan Lai slays as 帅哥 Pi Ya Nuo. A female lead who can hold her own in a fight makes for a refreshing change from the helpless young misses you often find in dramas.
I also love how supportive all the characters are of the main couple's 'same sex' relationship. Du Zi Feng spends all of five minutes brooding over the fact that he seems to have fallen in love with a man before deciding to pursue the person he loves regardless of gender.
Bii's performance is a bit wooden, but I can pretty much forgive the man anything, because, well, just listen to his voice.
Origin: Taiwan
Cast: Baron Chen, Megan Lai, Bii
Where to watch: Netflix; Viki
For the gamers: Love O2O (
微微一笑很倾城

)
The plot
When Computer Science student Bei Weiwei (Zheng Shuang) gets dumped by her 'husband' in a MMORPG, she attracts the attention of the game's top player, Yixiao Naihe (Yang Yang). The two get married in the game and become the ultimate power couple in the online world. But can they find true love IRL?
Love O2O is based on a novel by Gu Man.
You can also check out the movie version, starring Angelababy. I watched it on Netflix, but this may depend on your region.
What's to love?
I am a huge fan of RPGs, so I particularly enjoyed the in-game elements of the book and the screen adaptations. For those not into gaming, the story offers plenty of romance and some underhanded business shenanigans to keep it interesting.
Origin: China
Cast: Zheng Shuang, Yang Yang
Where to watch: Netflix; Viki
For the hopeless romantics: Autumn's Concerto (
下一站

,

幸福

)

Fair warning: You're going to need to keep some tissues handy for this one.
 The plot
A wealthy lawyer with amnesia (told you) ends up in a small rural village where he meets a young single mother and her son. As he begins to grow closer to both mother and child, he starts to suspect that they may be an important part of his forgotten past.
What's to love?
I'm not going to lie, this drama is plenty melodramatic, but it will hit you right in the gut. A stirring tale of regaining lost love against all odds.
I'm not crying. You're crying.
Origin: Taiwan
Cast: Ady An, Vaness Wu and the adorable Xiao Xiao Bin
Where to watch: Netflix; Viki
Which drama would you add to the list?