Check Out These 5 Online Language Tutoring Platforms
Please keep in mind that some of the links in this post are affiliate links. In the event of a sale, I will be awarded a small commission (at no extra cost for you). Thank you for supporting my blog!
Learning a language by yourself can be a difficult and lonely process. Finding a good tutor can help you accelerate your language learning by providing some structure and guidance to your studies.
Unfortunately, private tutoring is often expensive and university courses can be out of the reach of many.
Online tutoring is an affordable and convenient option for 1-on-1 language support and there are so many good platforms available nowadays.
Benefits of online tutoring
Social distancing –

online tutoring is the safest option in the age of social distancing

Convenient –

learn wherever there is an internet connection

Cheaper –

often more affordable than in-person tutoring and definitely more budget-friendly than enrolling in a university course

1-on-1 guided attention – 

your teacher can tailor lessons to your specific needs and learning style
In this article, we'll look at 5 online language learning tutoring apps to try out.
But first a warning, because I always advocate for spending wisely on language learning resources. Please be aware that some of the below options do not offer free trials and you may be in for at least the monthly subscription fee or lesson cost if you decide to sign up. 
I have included a range of price points to show you what is available. Carefully consider your options and your budget. Remember, what works for one person will not necessarily work for another, so do some research beyond this article.
Prices are as advertised on these platforms' websites at the time of publication.
With that being said, let's explore some options for online language tuition.
Italki
Italki is the world's largest online language tutor marketplace with 5 million users, over 10 000 tutors and 100+ languages. 
This trusted, affordable platform connects language students with both community tutors and professional teachers. You can also engage with the Italki community to find language partners, take part in discussions and get help with your target language.
Pricing
Pricing varies depending on the tutor. Tutors will offer different lesson packages based on the length of the classes and the learning outcomes. 
Community tutors will often be less expensive than professional teachers. This does not necessarily mean that they offer a lower quality service. My current Italki tutor is a community tutor and I am really benefiting from regular speaking practice and her structured HSK-based lessons.
It's best to have a good browse to see which tutor fits your needs and pocket.
Can I try before I buy?
Italki sometimes runs promotions where you can book trial lessons for free. If that option is not available to you, trial lessons are usually around $5, making it a relatively small, low-risk investment.
Sign up for Italki here.

Rype
Rype is a subscription-based online language learning platform that offers tutoring in 10 languages:
Spanish

French

English

Italian

German

Mandarin

Russian

Portuguese

Japanese

Arabic
All 10 languages are included in your subscription, which is great if you are learning more than one language.
You can select a tutor from a list of pre-vetted teachers based on your learning style and schedule. You can switch tutors at any time.
Rype uses Skype for lessons, so be sure that you have a stable internet connection to avoid disruptions.
Pricing
When signing up, Rype will suggest the prepaid 6 months subscription plan at $59.99/mo, which includes 4 hours of lessons per month. 
If you do not want to commit to a 6-month subscription, you can hit the edit button and select from the following additional options:
4 hours (paid monthly $79.99)
6 hours (prepaid 6 months – $84.99 /mo)
6 hours (paid monthly – $99.99)
10 hours (prepaid 6 months – $159.99 /mo)
10 hours (paid monthly – $179.99)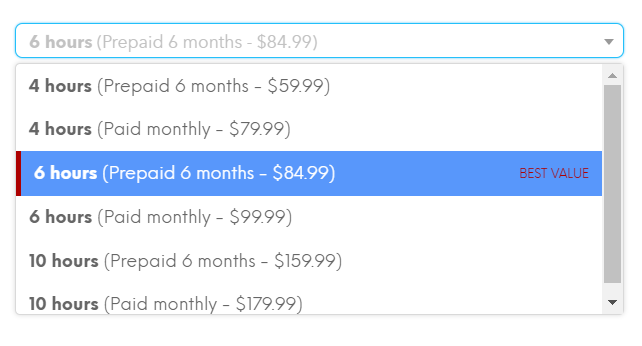 Based on the 4 hour 6-month pre-paid option, this works out to $7.50 per half hour lesson.
Can I try before I buy?
Yes. Rype offers a free 7-day trial, plus a 7-day refund policy. Be aware that Rype does require your payment details upfront, so you will have to remember to cancel after your free trial.
Sign up for a free trial here.
Preply
Preply is not just a language learning marketplace. You'll also find tutors on diverse topics such as acting skills, project management and C#. You can search for tutors based on language, price, nationality, or availability or you can post a request for a private tutor to help tutors find you.
Pricing
Pricing varies depending on the tutor. You can filter by price range to find tutors that suit your budget.
Can I try before I buy?
Trial lessons come with a satisfaction guarantee. If you are not satisfied with your trial lesson, Preply will give you a free replacement with another tutor or a full refund. 
If you liked the lesson, you can then continue to book a lesson package of 5, 10, 15 or 20 hours.
Sign up for Preply here.
Justlearn
Justlearn is another online marketplace that connects learners with language teachers. The platform provides online tutoring for more than 50 languages.
According to Justlearn, all tutor applicants go through a strict selection process and are required to have a Bachelor's degree.
As with most language marketplaces, students can search for tutors based on their target language and read more about them on their profiles before booking a lesson. You also have the option to book a 25 minute trial lesson.
Justlearn uses Zoom for online classes, which I find to be a lot more stable than Skype.
Pricing
Justlearn works on a subscription-based model. They offer these subscription plans:
4 lessons per month for $49

8 lessons per month for $89

16 lessons per month for $159

32 lessons per month for $299
Can I try before I buy?
Justlearn does not offer a free trial option, but they do have a referral program. If you invite a friend to try Justlearn you and your friend can both earn free lessons.
Sign up for Justlearn here.
Fluent City
For those who prefer more structured online group classes, Fluent City may be an option. Fluent City offers fixed scheduled conversational group classes as well as private tutoring in a number of languages including:
Spanish

French

Italian

Hebrew

Arabic

Portuguese

Chinese

German

Japanese

Russian
Online group classes meet for a total of 20 hours. This could be weekly classes (2 hours once a week for 10 sessions) or biweekly classes (1 hour twice a week for a total of 20 sessions) depending on the class.
Fluent City offers classes for Beginner, Intermediate and Advanced learners, but some levels are only available as private lessons, depending on the language.
Every subscription plan and private lesson package includes access to a full library of resources, which includes a textbook, video-based learning activities, and SoundCloud files for listening practice. 
Pricing
Fluent City falls into a slightly higher price bracket. This cost is offset some by the fact that you get full access to their resource library. If you are specifically looking for a structured group class and can accommodate the cost it may be the right choice for you.
Interactive online group classes are priced from $399 (20 hours).
Private online classes are billed on a monthly subscription basis or one-off payment as below:
Monthly subscriptions
Starter – 1 hour at $49 /mo
Basic – 4 hours at $189 /mo
Plus – 8 hours at $299/mo
Premium – 12 hours at $399/mo
Once off payment (billed upfront)
12 hours at $47/hr
48 hours at $45/hr
96 hours at $36/hr
144 hours at $32/hr
Can I try before I buy?
Fluent City does not offer free trial lessons. For private tutoring, they suggest that you sign up for a monthly subscription for one lesson per month ($49) and cancel your subscription before your next billing cycle.
Sign up for Fluent City here.
Are you taking online language lessons? Which platform is your favourite?