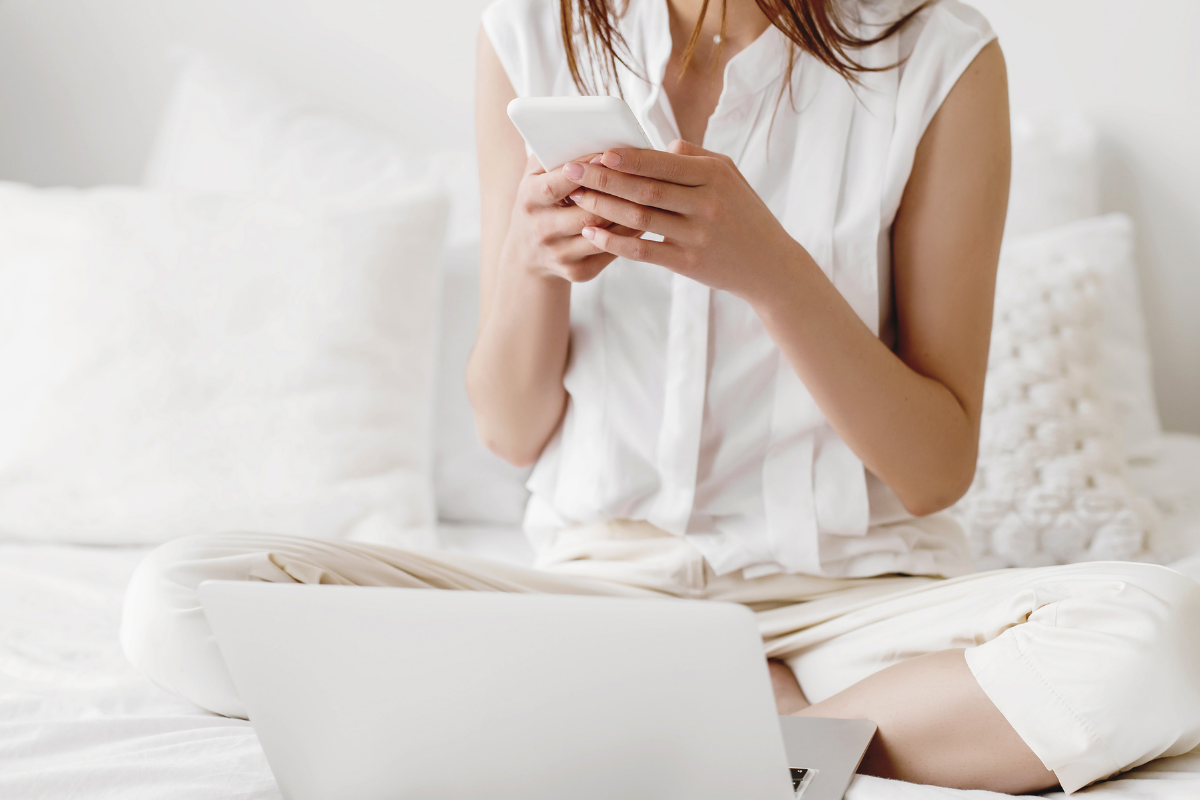 9 Ways to Learn a Language With Social Media
Please keep in mind that some of the links in this post are affiliate links. In the event of a sale, I will be awarded a small commission (at no extra cost for you).
Let's be honest, how much time do you spend scrolling social media per day?
Hey, no judgement here. My phone is constantly sending me screen reports confirming that I spend an unhealthy amount of time on Instagram.
Social media has a bad reputation as a time waster, and we're often made to feel guilty for indulging in such an unproductive activity.
Mindless scrolling, or what my husband calls a 'holiday of the mind', is not necessarily a bad thing. Sometimes we just need to switch off and look at some photos of pugs in Halloween costumes, and that's okay.
But what if you could turn your social media habit into guilt-free productive time – like using it to learn a new language ?
With just a few tweaks to the ways you engage with the social media platforms you already use daily, you can start building a language learning habit that does not feel like a chore.
Here are 9 ways you can learn a language with social media.
Find your community
The internet is a wonderfully diverse place that allows niche communities to come together and flourish. There are a lot of language learning communities out there, filled with people learning everything from Spanish to Klingon.
You just have to find your people.
Facebook groups are great for finding language exchange partners, sharing resources, and asking questions about your target language. Look out for private groups that have some sort of moderation system in place. This helps to keep out the spammers, the sellers and the creeps.
If Facebook is not your thing, expand your search to include other platforms such as Discord servers or subReddits.
Chances are there's already a community of language learners hanging out on your preferred social media platform. Go look for them and join in.
Follow the right people
To make the most out of your social media time, you need to curate your feed so you are exposed to useful language learning content as much as possible.
Follow people who share your passion for your target language or language learning in general, such as:
Polyglots 

Language teachers and coaches

Language publishers 

Bloggers and vloggers

Studygrammers
Following native speakers is also a great way to immerse yourself in authentic, natural use of the language. Just be aware that internet slang is a thing and the way your new online friends speak may not necessarily be acceptable (or even understandable) in all situations in real life.
A good tip is to have a separate account that you use when you want to immerse yourself in language learning content. This way you won't get distracted by cat videos or posts from family and friends.
Join a language challenge
Signing up for an online language challenge is a great way to stay motivated and, as the name suggests, challenge yourself to stick to a language learning habit for a predetermined amount of time.
While you can absolutely complete these challenges privately, committing to posting your progress online will help you stay accountable. Some challenges will even offer prizes to reward active participants.
Online challenges will often have a dedicated hashtag that you can use to see how others are getting along and interact with other participants if you are feeling social. Sometimes it just really helps to know that you are not alone on your language learning journey.
You can also create your own challenge and invite other members of the community to join in.
Practice speaking in your target language
If you are comfortable enough, try recording yourself speaking your target language and posting it to whatever video-sharing platform you use (YouTube, Instagram Reels, etc.).
This is a safe way to practice speaking, as you will have ample time to prepare, and you can record and re-record until you are happy with the end product. 
If you are feeling really brave, you can invite members of your community to provide feedback on your pronunciation, word choice and so on. 
What if your video feels a bit cringey later? You can always delete it or post it to a temporary space like Instagram Stories (which disappears after 24 hours unless you save it to your highlights).  
Use social media as a language diary
You already use social media platforms like Twitter and Facebook to express opinions and give updates on your daily life.
Why not do it in your target language?
This can be as simple as telling everyone what you had for lunch: "Today I had a chicken salad for lunch. It was delicious."
Or you can post more complex thoughts and opinions, depending on your level. 
If you are more into photo-sharing apps, you can try captioning your snapshots in your target language.  
You can also put it out there that you are open to corrections. This will really depend on how comfortable you are with constructive criticism. 
If you think your friends and family may be a bit bemused if you suddenly start tweeting in Spanish, you can create a separate account dedicated to language learning.
Expand your vocabulary
This one works really well with Pinterest and Instagram. Content creators within the language learning community will often create vocabulary posts organised along useful themes, such as holidays, food, household items, sports, business, etc.
Take for example this Instagram post I did last year, sharing some useful Mandarin Chinese vocabulary for Christmas. 
It's a great way to mine and organise new vocabulary!
Be intentional
Do you find yourself mindlessly scrolling social media, supposedly browsing language learning tips but not really taking anything in?
Try saving interesting content as you scroll to review later. But don't just hit save and forget about it. You want to actually use these resources to improve your language skills. 
Add a dedicated slot to your study schedule where you go through saved posts, actively learning the vocabulary, practicing new grammar concepts and actioning any study tips.
Create your own studygram or language learning blog
Sharing your language learning journey online is a fun and rewarding way to build a community and stay motivated. Depending on your interest, you can:
Start a language learning blog. Check out free blogging platforms such as Wix, WordPress.com and Joomla.

Start a studygram on Instagram 

Create your own YouTube channel

Share your tips and progress on TikTok
Or you can use whatever platform you want. You're the creator here!
The downside of this is that you can start spending more time curating content than actually studying your target language. 
Engage with language learning apps and platforms
Finally, you can move beyond mainstream social media and try out apps and platforms specifically designed for language learners.
There are many apps that use community building and other social elements to help you learn a language.
For example: 
Hellotalk –

an app that allows you to chat with native speakers around the world.

italki community –

interact with other language learners, share your progress, ask questions, join discussions and more.

FluentU –

 Learn your target language through authentic videos with useful features such as interactive captions. It's like YouTube for language learners!
Do you have any tips for using social media to learn a new language?