On My Bookshelf: Books I Use to Study Mandarin Chinese
Please keep in mind that some of the links in this post are affiliate links. In the event of a sale, I will be awarded a small commission (at no extra cost for you). Thank you for supporting my blog!
I love books. So much so that my long-suffering husband had to custom build a bookshelf to accommodate them all. I'm always on the look-out for Chinese language-learning books to add to my collection.
Here are all the books I am currently using (or have used in the past) to learn Mandarin Chinese.
Textbooks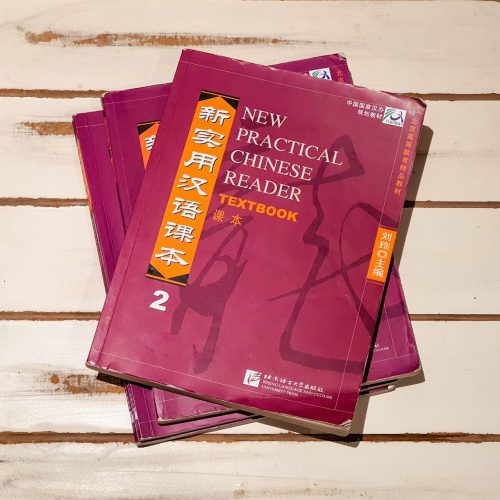 New Practical Chinese Reader (NPCR)
Ah, this is where it all started. My university textbook. I decided to enroll in Chinese Studies 1 in the third year of my PhD programme on a complete whim. I loved it so much that I got distracted and had to take an extra year to complete my PhD. But who's counting, right?
I have fond memories of this series. Each lesson contains a dialogue, vocabulary, comprehensive notes on grammar, character composition and cultural topics, as well as some exercises. The later books dispense with Pinyin altogether and gradually introduce more complex vocabulary and grammatical structures.
I remember the workbooks being quite challenging and a good way to reinforce the lesson. It also came with audio CDs and DVDs, but I'm sure nowadays it's all digital.
Buy it here.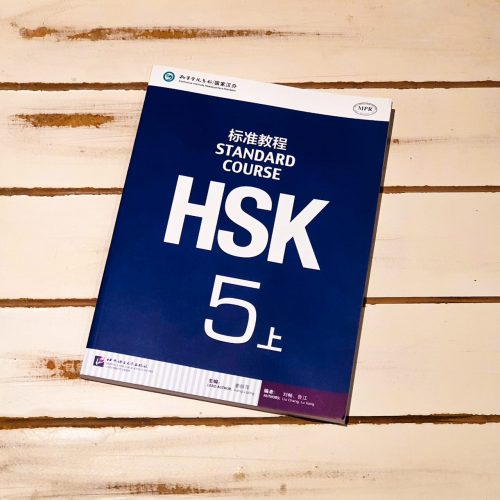 HSK Standard Course Series
I got HSK Standard Course volume 5上 as the required textbook for the Chinese Zero to Hero course. So far, I find it very useful in conjunction with the course, but it's also great for self-study.
The series is divided into six levels matching the HSK test, and also includes a workbook for each volume.
I just ordered 5 下 and 6 上 from Amazon and will probably make this my main textbook as I work my way through the Chinese Zero to Hero courses.
Buy it here.
HSK Mock Exam Level 5
I also got this HSK 5 practice test book on Amazon, but I have to admit that I haven't used it much. I have no intention of sitting the HSK exam any time soon, but when I do, I'll be using this book to practice.
Buy it here.
Grammar
Basic Patterns of Chinese Grammar
A nifty little reference guide that covers the basics (as the title suggests) of Chinese grammar. It aims to correct some of the most common mistakes non-native speakers make when speaking and writing Chinese, with examples labeled as 'CC' (Correct Chinese) and 'BC' (Butchered Chinese).
This book won't be replacing any of your Chinese textbooks, but it works well as a supplementary guide for quick look-ups.
Buy it here.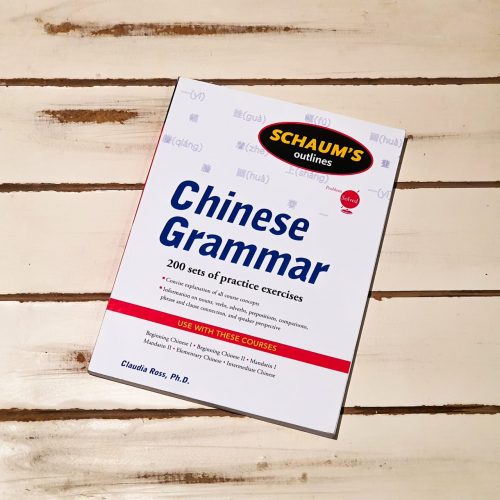 Schaum's Outlines: Chinese Grammar
I'm currently using Schaum's Outlines to get to grips with larger numbers in Chinese. This book offers a very thorough overview of the main grammatical concepts and also includes some exercises and answers.
As useful as this book is, it's best used as a review aid to help reinforce information you've already learned in class or in self-study. It assumes that you have some background in Chinese studies and is not really suitable for absolute beginner learners.
Buy it here.
Dictionaries
Collins English-Mandarin Chinese Dictionary
This tome looks great on my shelf, but I'm far more likely to head over to Pleco because it's just so much more convenient.
Buy it here.
Concise English-Chinese Dictionary
I bought this one on a trip to China, but it is so tiny it makes my eyes hurt. Back to Pleco.
Reading
Chinese Breeze Graded Readers
My Chinese tutor introduced me to this series and I love it. Chinese Breeze offers a good selection of graded readers from beginner to intermediate level. Titles are currently divided into 3 levels, with the website indicating that they have plans to expand the collection up to level 8:
Level 1 (approx 300 words)
Level 2 (approx 500 words)
Level 3 (approx 750 words)
Give this series a try if you are want to start reading in Chinese but you're not quite ready to slog through native material. There's nothing quite like the sense of accomplishment you get from finishing your first book in your target language.
I also like that this series offers original stories in a range of genres and not just simplified translations of English classics.
Buy the complete set here.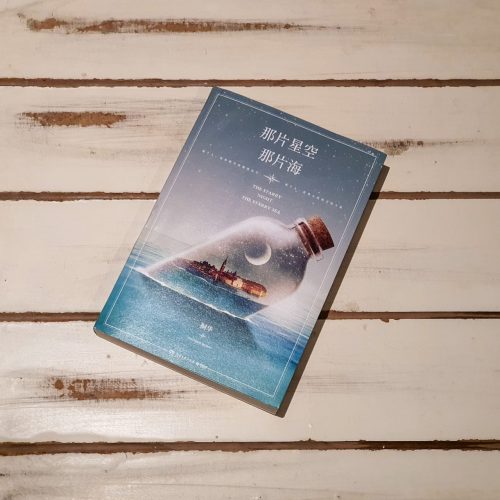 The Starry Night, The Starry Sea (
那片星空

那片海

) – Tong Hua (

桐华

)

Tong Hua is a hugely popular Chinese romance novelist. The Starry Night, The Starry Sea is a fantasy romantic drama that tells the love story of a merman prince and a girl living on a small island.

I bought this one in paperback and I have to say not having the luxury of copying text from an ebook into Pleco makes reading a lot harder. But I also find that I am learning much more because I actually have to engage with new vocab when doing radical look-ups.

The Starry Night, The Starry Sea has also been adapted as a drama which is available on Viki.

Buy it here.
Writing
Collins Easy Learning Mandarin Chinese Characters
This book is very useful for practicing Hanzi. It covers the first 250 characters and includes practice grids with guidance on stroke order, as well as some useful information about the character.
This one is great for beginners just starting out with character writing, but it won't get you very far.
Buy it here.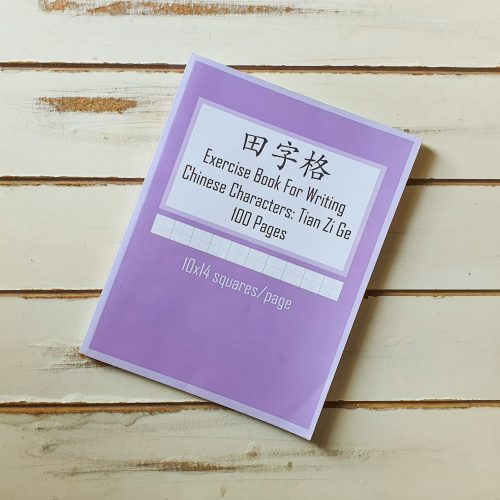 Tian Zi Ge: Exercise Book for Writing Chinese Characters
A good-sized tian zi ge (grid paper) exercise book. Great for practicing writing.
Buy it here.
On my Kindle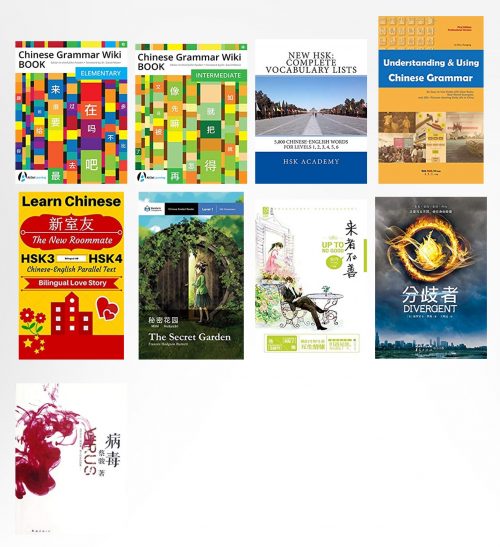 Chinese Grammar Wiki Book: Elementary and Intermediate
I've said it before, the Chinese Grammar Wiki is my go-to source for all things grammar-related.  This incredible resource is available for free online, but I had to support them by buying the books.
Highly recommended!
Buy it here.
Virus (
病毒

) – Cai Jun (

蔡骏

)

I found this mystery novel relatively easy to read and quite a page-turner.

On the eve of the Winter Solstice, our protagonists receives an urgent email from his friend. He rushes over only to find that his friend had committed suicide by jumping from his apartment building. As more and more suicide cases appear, it becomes clear that all of the victims had visited a mysterious website before their deaths. Be warned, this novel has some supernatural and gory elements.

Buy it here.
Up to No Good (
来者不善

) –

金丙

I'm only a few pages in, and I'm really not feeling this novel. Amazon Kindle has a poor selection of Chinese e-books and it was slim pickings. This seems to be some kind of inane romance novel and the main character annoyed me almost immediately. I'll pick it up again if I have nothing better to do with my time.

Buy it here.
Divergent (
分歧者

) – Veronica Roth

I enjoyed the Divergent trilogy and it helped to read a familiar story, but I still prefer to read original Chinese novels to learn natural written Chinese.

Buy it here.
Mandarin Companion: The Secret Garden
Similar to the Chinese Breeze series,  Mandarin Companion offers a collection of graded readers based on familiar classics.
Buy it here.
New HSK Complete Vocabulary Lists
It's helpful to have all the HSK vocabulary in one place. This one is available on Kindle Unlimited, but it may be more useful to get a paperback copy if you like to make notes.
Buy it here.
There you have it, my entire collection of Chinese language learning books. Which books do you use to study?